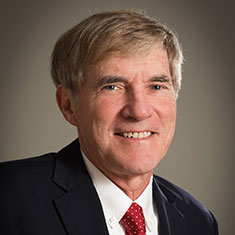 Kevin J. Herlihy, M.D., F.A.C.G., is a graduate of Georgetown University and received his M.D. degree from Albany Medical College. He completed his internal medicine training at Albany Medical Center Hospital and his fellowship in Gastroenterology at the University of North Carolina School of Medicine at Chapel Hill. Dr. Herlihy began practicing in this area in 1981 and founded this private practice restricted to the specialty of Gastroenterology in 1986.
Dr. Herlihy performs advanced endoscopic procedures and has a special interest in diseases of the esophagus and inflammatory bowel disease. He helped establish the GI Center at Glens Falls Hospital and served as its Medical Director for many years. He subsequently helped establish the freestanding ambulatory endoscopy center, Northern GI Endoscopy, in 2002.
Dr. Herlihy is a member of the American Gastroenterological Association, the American Society of Gastrointestinal Endoscopy and is a fellow in the American College of Gastroenterology. He was awarded the Glens Falls Hospital Harry M. "Mac" DePan Physician Award of Excellence in 2010. Dr.Herlihy resides locally with his wife and is the proud father of two adult children and has six grandchildren.