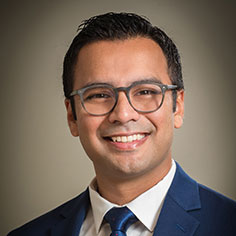 Ovais Ahmed, M.D. is a Magna Cum Laude graduate of Rutgers University and received his medical degree from Drexel University College of Medicine. He completed his medical residency at Temple University Hospital and his Gastroenterology Fellowship at the University of Vermont Medical Center.
Dr. Ahmed has been involved in numerous clinical research trials and has presented at many regional and national gastroenterology meetings.
Dr. Ahmed has a special interest in diseases of the esophagus, pancreas and biliary system. He performs advanced interventional endoscopic procedures including Endoscopic Retrograde Pancreatography (ERCP), Endoscopic Ultrasound and Radiofrequency Ablation for Barrett's Esophagus.
Dr. Ahmed is an active member of the American Gastroenterological Association.